Soccer Coaching 101: Playmaking Tactics
Coach Weber prefers the term organization rather than tactics. He wants his players to know their positions and to know their job – offensively as well as defensively.
Watch the video to learn more about his tactical – sorry, I mean organizational – approach, the importance of successful strategies and technical fundamentals as well as creative playmaking options.
COMPLETE SOCCER TRAINING PROGRAMS
WARMING UP + TECHNICAL SKILLS
Expand your playbook with a variety of highly effective drills. Maximize your practice time by combining every important aspect of soccer training into one training session. Warm up your players while working on their technical skill set. Learn how incorporate the ball as often as possible. Suitable for all age groups.
Buy now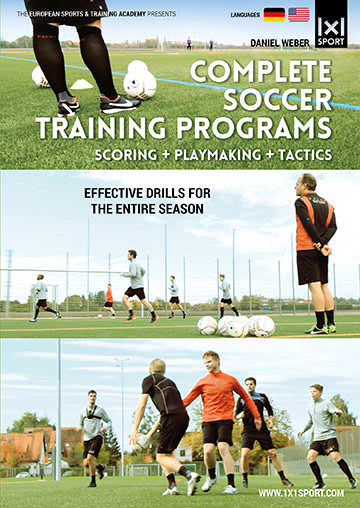 COMPLETE SOCCER TRAINING PROGRAMS
SCORING + PLAYMAKING + TACTICS
More than 25 new and innovative drills focused on scoring and playmaking. Raise your player's tactical awareness while simultaneously working on their technical skills. Set up efficient soccer practices in minimal time. Including bonus Free-kick variations.
Buy now