Soccer Training: Coach Weber on the Scope of Work
When you're coaching on the youth and amateur levels time plays a crucial role. You simply have no choice but to maximize the time you have at your disposal.
This is why you should make sure to incorporate the use of the ball as often as possible, even during warm-ups. Being able to control the ball is the most fundamental skill. It's the prerequisite for any tactical, technical or playmaking skill.
This is why Coach Weber's drills aim at combining all the important aspects of soccer training instead of isolated training sessions that solely focus on certain subparts.
COMPLETE SOCCER TRAINING PROGRAMS
WARMING UP + TECHNICAL SKILLS
Expand your playbook with a variety of highly effective drills. Maximize your practice time by combining every important aspect of soccer training into one training session. Warm up your players while working on their technical skill set. Learn how incorporate the ball as often as possible. Suitable for all age groups.
Buy now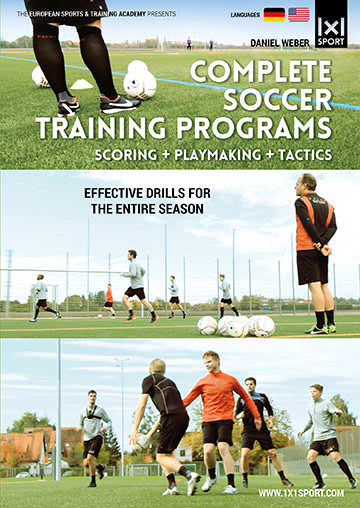 COMPLETE SOCCER TRAINING PROGRAMS
SCORING + PLAYMAKING + TACTICS
More than 25 new and innovative drills focused on scoring and playmaking. Raise your player's tactical awareness while simultaneously working on their technical skills. Set up efficient soccer practices in minimal time. Including bonus Free-kick variations.
Buy now