A New and Innovative Agility Ladder Drill (Visual)
This drill is the perfect guide to optimizing the cross-linkage between your eyes, your brain and the movements that you have to be able to execute in order to become a prolific, quick-thinking athlete.
Set up an agility ladder and place colored and numbered cones (or any other items) left and right of it. For your first try, move through the ladder with some easy steps. Later they can (and should) get more complex. As you run through the ladder you shout out the colors and numbers in the correct order. If you want an even more challenging drill, you can add other movement tasks as well (e.g. clapping).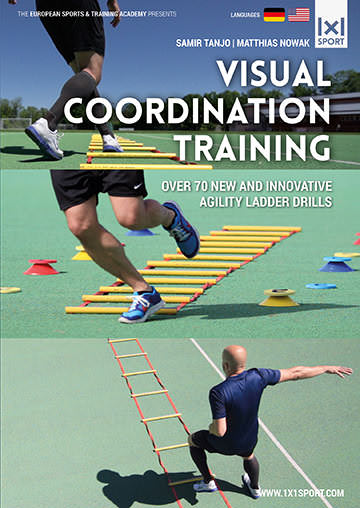 VISUAL COORDINATION TRAINING
OVER 70 NEW AND INNOVATIVE AGILITY LADDER DRILLS
Get a perfect synergy between mind, body and your visual skills. Optimize your perceptual skills, your reaction speed and your quality in movement. Visual coordination training is creative and challenging, and it's a great way to improve both your agility and your coordination skills. Featuring intelligent running drills with additional tasks and a variety of variations. Suitable for all ages and skill sets. Cognitive skill training at its best!
Buy now