The Chip – A tactical drill to help you train wing play
With this drill you not only improve your players' technical skills and their scoring ability, you can also add an unconventional but highly effective play to your playbook
The drill starts off with the playmaker delivering the ball to the striker; the striker immediately lays the ball off for the playmaker who then lobs the ball into the box and over the defender.
By coming to meet the ball, he's likely to momentarily unsettle the opposing back line and by sprinting deep he can take advantage of this situation.
Since the defender is often able to get in between the passing lane however, chipping the ball is an effective way to get behind the line of defense.
The two strikers again try to get open in the box so that they can convert the ball the wing player crosses in. Since we now don't have any defenders in the box to deter the wing player, he could possibly convert the chipped ball himself without crossing the ball to the strikers, but only as long as he's in a good scoring position.
However, since we have to assume that several defenders are positioned in the box during a match, he should cross the ball inside to the strikers, because they're more likely to be in an even better scoring position.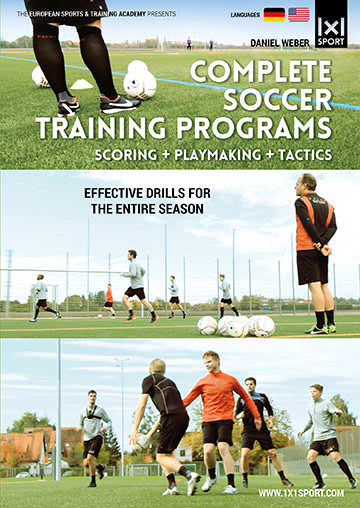 COMPLETE SOCCER TRAINING PROGRAMS
SCORING + PLAYMAKING + TACTICS
More than 25 new and innovative drills focused on scoring and playmaking. Raise your player's tactical awareness while simultaneously working on their technical skills. Set up efficient soccer practices in minimal time. Including bonus Free-kick variations.
Buy now